| | | |
| --- | --- | --- |
| | IRELAND: St Patrick Day & Spiritual Tour | |
Travel/Trip
Date:
March 9-19, 2019
Location:
Ireland
Venue:
Around Ireland
Address:
Co. Dublin, Wicklow, Westmeath, Offaly, Galway, Clare, Limerick & Kerry
Price:
$3,333.00 CAD

Deposit:
$1,000.00 CAD
Contact Info:
Maria O'Farrell Carr
Email:
Website:
Phone:
2504930106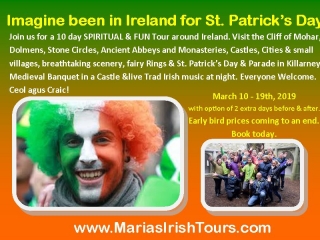 St. Patrick's Ireland Spiritul Fun Tour
March 10th to 19th, 2019
This unique tour is hosted by spiritual hosts and Celtic guides that are there to support you on your spiritual and adventures in Ireland.
Registered & bonded Tour
with spiritual guides and Celtic Wisdom Keeper & Irish Guide Maria O'Farrell Carr
and best-selling co-author Angela Blaha, a creator of unforgettable experiences.
Special Guest Irish Vibrational Land Healer Jane Donald

Everyone welcome.
Special Night: Medieval Banquet Dinner & Show in Bunratty CASTLE


St. Patrick's Day in Ireland with festival and parade in Killarney


Coel agus Craic each evening. (Music & fun)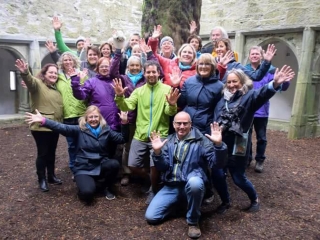 ALSO
9 nights' accommodation in Ireland.
Tea/coffee in rooms, toiletries, towels, TV, WI-FI, Iron and ensuites.
8 full Irish breakfasts (9 if staying extra day)
2 nights hotel in Bray, Co. Wicklow (Near Dublin)
2 nights hotel in Co. Galway
1 night hotel in Bunratty Castle Hotel, Co. Clare
4 nights hotel in Killarney, Co. Kerry
NOTE: Only 3 single rooms are still available and are First booked – First served. Single supplement applies.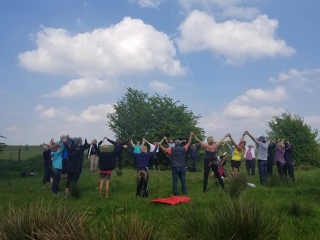 6 bus days with local guide/driver
Inisfallen Island traditional boat adventure tour
Bunratty Castle Medieval Banquet Dinner with Mead and show
St. Patrick's Day in Ireland with festival and parade.
Welcome 'Meet & Greet Social' and 'Farewell Gathering' on the final night
Also included is Inisfallen Island and Ross Castle
Grange Lois Stone Circle, Wedge Tomb & Lough Gur.
Cliffs of Mohar & admission to the Informative Center
Clonmacnoise ancient monastic site
Hill of Uisneach Guided tour
Time in the heart of Galway's famous Quay St. Evening of Music in Galway or Celtic Fire Ceremony
Celtic Spiral Ceremony with Maria O'Farrell Carr in Killarney
Poulnabrone Megalithic Dolmen, The Burren wilderness, Thatch Cottages, Famine walls & Houses.
Muckross Abbey, Torc Waterfall
Glendalough Monasteries, Round Tower, Celtic High Crosses
Crystal Forest with special Irish vibrational healer Jane Donald.
Live Irish music most nights and evening shows and late night 'Lock-in's'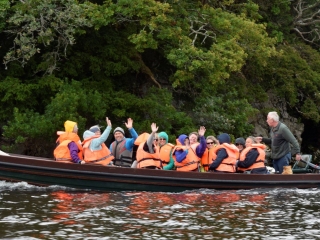 Early-Bird Discount - Limited Time only - ending soon!
$3333 Canadian dollars per person sharing including taxes & fees.
(Estimate only: $2533 USD or 2233 euro)
Full Regular Price: $3500.00 CAD.

Single Room Supplement: Add $1500 CAD. (Only 3 rooms left)
Prices are in Canadian dollars.
Vat, taxes, tolls and Credit card fees and exchange rate fees are all included.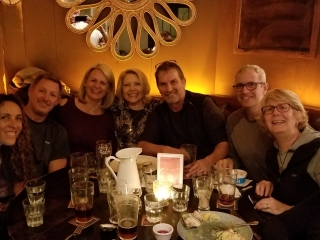 These testimonials are an example of the appreciation our customers have expressed for our services.
http://www.mariasirishtours.com/testimonials.aspx
Hi Maria,
I wanted to take a moment to express my deep gratitude to you for the fact that you do the tours you do, and how important this experience in Ireland was to my daughter and I. There are so many aspects of what you do and how you do it that make it the kind of event it is. You have a deep love of people and of Ireland. Beyond this though, is your desire to connect the people who left Ireland in the past and bring them back to their homeland in this timeline, to heal the grief and reconnect with the land, their history, and the modern day Irish people. Just wow... You have great therapeutic skills also, which you put to use in such a unique way. You simplify and present a very complex history of Ireland and weave it with the spirituality in a way that I have never seen. I love your book, its circularity and its practicality. I will continue to use it as a reference point in my "Irish studies" tehe… Well, enough for now. Once again, you are an inspiration and I hope this keeps being fun for you, because I definitely would like to join you for a tour again in the future. Warmly, Shelly (USA) 2018
Hello Maria,
It must feel good to have another very successful tour completed. I don't know if I really conveyed before how appreciative we are for the great organizational job you did with the tour. The spiritual aspect of it added so much, making it very meaningful. We would not have had half the incredible experience if not for you, Maria. Thanks again. You really do ROCK! Lots of love, Miles and Darrilyn (BC. Canada)
Hi Maria,
What a beautiful perfect group I had the blessing to have and specially the best host ever MARIA, thanks, thanks so much, you're the best host ever! I love you're humor! Thanks again Maria, thank to all and for your beautiful spirit ! Dulce (Mexico) 2018
Dearest Maria,
I know we hugged good bye but I personally want to thank you for taking care of all your crew so perfectly well. Your entertainment was out of this world. Thank you again. I'm showing the pics and telling everyone and they are interested in going next time. I think I will be your long distance publicity. Much love, light, & peace, Janeth (USA) 2018
Thank you so much for an experience of a lifetime, your guidance, knowledge, wisdom and kindness. In love and light till we meet again. -Judith G.
I had such an amazing time, I can't even tell you. I hope to see you on another journey. I can still hear your laughter, Maria. Much love, Debra Cr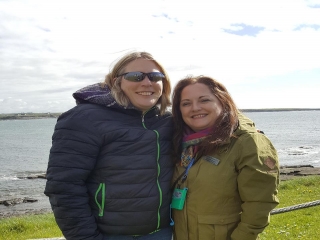 Maria O'Farrell Carr DSA, CSRI, RAC, ACR, AAEP, Fairyologist.
Maria is a gifted healer, medical intuitive and Fairyologist from Ireland. She carries a vast wealth of experience from a life of passionate exploration of the profound healing and ancient Irish intuitive gifts she inherited from her mother, her Nana Áine and going back to her grandmothers, two great uncles who were well known healers of the sick and even as far back as her great, great, great, grandfather (b. 1837) who was known as 'The Irish Healer of Horses and Animals'.
When she was 21 at home in Ireland an angel dropped in to say hello. Angel Jerome has been with her ever since and helps to guide her in her travels and teaches her to develop her intuition skills.
Maria grew up in Ireland and has travelled, lived in or solo travelled to over 16 countries and visited 247 cities. Maria has lived happily in the Okanagan, BC for over 25 years and now lives part-time in Ireland in the Spring and Autumn when she is Tour Director and guide for her www.MariasIrishTours.com . She guides the tour around Ireland showing them the ancient sacred sites and the real Ireland. Maria channel messages direct from the Ascended Masters and Archangels, her Celtic family Ancestors and to her ancestors the Tuatha De Dannan.
In 2014 when hosting the Sacred Hawaii Tour she met Kahuna Kalei'iliahi who is a Lemurian High Priestess. She encouraged Maria to step forward as one of the true Celtic Wisdom Keeper and healers. Since then Maria has written two books on Irish Celtic Wisdom and is working on her third book about Angel Jerome. Maria is a clairvoyant and a claircognizant which means that she has a "clear knowing" when it comes to your Angelic Messages and Guidance and she can also "see" the best direction for you to take, based upon what angelic messages the Angels give to her. She is also gifted with: ClairAUDIENCE, ClairSENTIENCE, ClairEMPATHY, ClairELOQUENCE and The Clair of Ascension. Been able to travel to higher 12th dimensions and work with the angels at this higher vibrational level. www.MariaOFarrellCarr.com Maria continues to find the joy in her life in all she does.