| | | |
| --- | --- | --- |
| | Profound 12 Day Retreat Journey in Crete | |
Retreat
Date:
September 27-October 9, 2019
Location:
Rethymno, Rethimni, Greece
Venue:
Kalypso Cretan Village Resort & Spa,
Address:
Karavos, Plakias, Rethymno, Crete, Greece

Price:
€1,895.00 EUR
Contact Info:
Christiane Hollmer
Email:
Website:
Phone:
212936706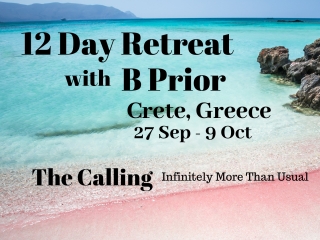 THE CALLING - INFINITELY MORE THAN USUAL
12 amazing retreat days with B Prior - an unimaginable journey of timeless awakening to the depth of Being and Beyond, amongst the beauty, wonder and mystery of the beautiful and sacred Isle of Crete .
You are called infinitely deeper than the familiar. Come to Your Heart! Walk amongst the dualities of life being non-dual, singularly inspired by The Self. Feel it, it is Here Now!
A retreat space with B offers a powerful return to Truth, Love and Knowing. You come to truly meet and know your Self through the light of Love, who you really are as Awareness.It is truly a journey into the Unknown - the placeless place of your True Heart. There is no looking back - ever!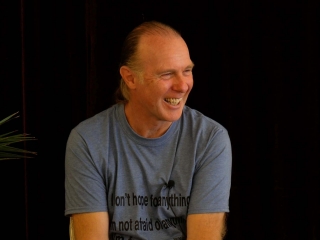 About B:
B Prior, known as "B" is a contemporary visionary and mystic, who offers a profoundly unique and enlightening perspective on life from the smallest matters that shape our personal lives to the biggest universal questions of human existence. With compassion, humour and uncompromising Truth, he brings the highest teachings straight to one's core and into daily life.
His teaching about enlightened partnership, real intimacy and the calling to a higher Love as men and women of Truth, undoes and transcends everything the world has taught us.
B is the author "Love Without Duality "a book about awakening in profound partnership and intimacy.
He is the originator of The Form Reality Practice, a powerful movement practice and vehicle of awakening. He is based in New Zealand and travels the globe extensively offering talks, seminars and residential retreats.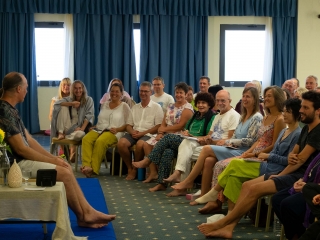 RETREAT PROGRAM
Every retreat with B unfolds in its own unique rhythm – a typical day has three sometimes four sessions and a break at lunch with plenty of time to enjoy, to explore andcommune as you deepen in the heart. The retreat will be held across the whole resort space. There will be sessions in the meeting hall at the highest point of the resort (with a spectacular view of ocean), as well as in several of the resort's beautiful outside locations such as the Amphitheatre or the Terrace. There will be spontaneous walks across the cliffs to the nearby beaches and tavernas and there may well be the occasional very early morning or very late night sessions.
Much time on this retreat will be spent outdoors, enjoying all that nature has to offer. There will be walks to nearby beaches and spontaneous outings as well as two main full day excursions to some of Crete's beautiful sites. These are an integral part of the retreat, an opportunity to ground and embody what you are opening to on this journey.
Over the duration of the retreat you learn and deepen in The Form Reality Practice, an immensely powerful five-part movement practice and vehicle of awakening .
WHAT'S INCLUDED
Satsang with B over 12 days
Learn and deepen in The Form – Reality Practice Part 1-5
All meals
Accommodation in standard twin share/double rooms (single room option and room upgrades to 'superior room' available at extra cost and strictly subject to availability)
Excursions
ITALIAN TRANSLATION PROVIDED - French & German as required
Approach us to find out about other languages!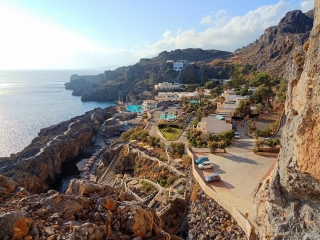 VENUE

The retreat will be held at the beautiful Kalypso Cretan Village Resort & Spa, a stunningly unique ocean-front near the village of Plakias. You will love this unique and charming venue that is nestled in its very own bay in along Crete's rugged and stunningly wild southern coast.